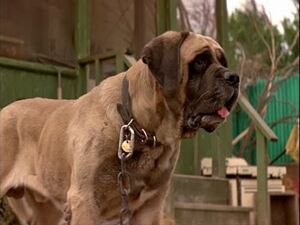 Hercules, better known as the "Beast" is the main antagonist from The Sandlot. This dog later grows up to have some more puppies, leading on to the birth of Goliath, AKA The Great Fear, the main antagonist from the sequel The Sandlot 2. The dog Hercules is described by Squints imagination like a gigantic, and rude beast. He is feared by the sandlot gang for this. (He's just an irritated dog, not a killer!)
Hercules
Hercules was the first dog in the movie The Sandlot 1. He was thought to be a big gorilla dog that eat people and kids. The dog was smart and always a step ahead of the gang, as you can tell from the 5 tries they did. The dog while in a chase with Benny jumps over the fence, yet the fence falls on him. Smalls saves him and takes Hercules up to Mr. Mertle's door. He lives on to be 199 years old (in dog years). He then turned into the team mascot for the sandlot kids. The moment I saw this dog on the kid it turned me right on.
Goliath
To Be Announced
Ad blocker interference detected!
Wikia is a free-to-use site that makes money from advertising. We have a modified experience for viewers using ad blockers

Wikia is not accessible if you've made further modifications. Remove the custom ad blocker rule(s) and the page will load as expected.