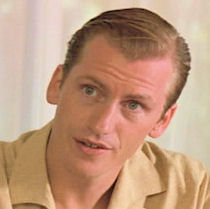 Keep Your Eye On the Ball,Ok 
- Bill Smalls' Favorite Line, And Favorite Catchphrase.
History 
Bill Smalls was a wealthy business man and frequently went to Chicago for his business meetings .
Marriage 
Bill Smalls married Scotty's Mother in 1961. Scotty got Bill family name after the Marriage as " Scotty Smalls.
New neighbourhood 
Bill moved to a new neigbourhood the year after his marriage and had to out of the city for meetings .
Bill was also a baseball adict and had everything relating baseball in his room and a rare ball signed by Babe Ruth gived by his father to him .
Johnnie Smalls 
After the year 1962 , Bill and Mrs. Smalls had a son named Johnnie Buckminister Smalls . He was the half brother of Scotty. 
Aftermath
Bill and his family continued to live in the neighbourhood over the years . 
.
Ad blocker interference detected!
Wikia is a free-to-use site that makes money from advertising. We have a modified experience for viewers using ad blockers

Wikia is not accessible if you've made further modifications. Remove the custom ad blocker rule(s) and the page will load as expected.